We speak with Kirsten and Maria Palladino about their wedding nine years ago in Atlanta, at the aptly-named Mary Gay House. Their wedding planning experience led them to the resource they wished they'd had when they got married: Equally Wed, an online wedding magazine for LGBTQ+ couples.
We discuss an article that came out recently, which cites a statistic that 30% of lesbian couples and 11% of gay male couples experience discrimination in the course of wedding planning. Is it because queer women are more likely to bend gender expectations?
Will there ever be a time in humanity where LGBTQ+ people will not be discriminated against?
LOL, nope. We've given up all hope.
TERFs are garbage.
Y'all need to fucking vote.
Are you registered? Click here to double check.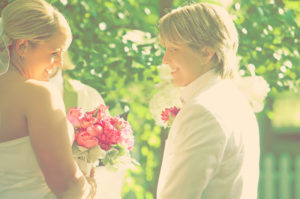 Meet Kirsten and Maria, founders of Equally Wed
We're going to talk about Equally Wed in a later episode, but today we're talking about Kirsten & Maria's wedding!
After meeting in a bar on lesbian night (as you do) in 2003. Kirsten was in the midst of a summer fling; Maria thought it was serious. Maria was single; Kirsten thought she was in a long-distance relationship. It took them a few months to actually start dating. They've been together since early 2004 and got married in 2009.
2004 was a long-ass time ago.
And we're all significantly older now.
So was 2009, when they got married – there were only a handful of places where LGTBQ+ weddings were legal at the time.
They wanted to hold their wedding where their friends and family were located – Atlanta. They chose the Mary Gay House, named after a civil war writer whose work inspired Margaret Mitchell's Gone with the Wind. They loved the space and it fell nicely into their budget.
"It was June and it was hot, so I tried very hard to be nice to people."
Ahh, Georgia in the summertime. But it was lush and beautiful for their indoor/outdoor ceremony. Kirsten may have been just a little bit grumpy right before the ceremony due to the stress and the heat.
"We both wore white."
Kirsten tells us about her fear of wedding dress shopping as a curvy, plus-sized woman. A struggle that a lot of brides can relate to. David's Bridal provided a great experience at two different locations, and she found a dress she loved! Bonus: it was way below budget.
Her pro tip for dresses? Wear something that you feel beautiful in! What it costs doesn't matter; if you feel beautiful, then you are beautiful – and your photos reflect that.
Maria wore a very handsome white suit – which she says she wouldn't do now! She says she'd maybe pick a light gray suit now, perhaps with accessories like a pocket square and suspenders. It's worth noting that Maria was 100% on trend for 2009 lesbian weddings – there wasn't the same variety of inspiration nor actual clothing items in the stores at that time.
It bears repeating: Your wedding will look dated because it happened at a specific point in time. And that's ok!
All weddings are affected by trends and by what's available – just like everything else in your life. Your wedding does not exist in a vacuum. Some elements may be timeless, but ultimately, it doesn't matter. Just pick what you love and do what makes you happy and stop worrying about whether or not it's trendy.
"We did spend a small fortune on our photographer."
And they think that's where a significant portion of the budget should go. It's what preserves your memories for the years to come.
"This is a same-sex wedding. I'm getting married to a woman. Give me a call back if you'd like to work with us."
A lot of the details were kind of hard, but that's pretty true for everyone. Picking the right caterer, florist, whatever that can do what you want. There was concern over whether they'd be accepted; the worry of approaching every vendor and not knowing how they'd react. Having to come out again and again to every single vendor they talked to was difficult. Sometimes, Jesus was invoked…
The huge void in the wedding media landscape, coupled with their experiences trying to find LGBTQ-friendly wedding vendors, led Kirsten and Maria to launch Equally Wed.
Just about the only resource at that time was the Gay Yellow Pages – a printed guide available in most major cities.
"We're a butch-femme couple, so we did a lot of butch-femme traditions."
Maria had a bachelor party and Kirsten had a bachelorette party. Kirsten threw her bouquet (actually, a toss bouquet made by the florist for this purpose – bridal bouquets are HEAVY!); Maria wore a boutonniere.
Bouquet carrying pro tip from Cindy: Hold it at your belly button – not in your boobs, not in your crotch.
How did the wedding day go? What would you do differently?
Kirsten says there are so many things she'd do differently. She pushed the DJ hard to keep the club music coming, which meant friends their age had a great time on the dance floor – but family members and other older guests mostly sat on the sidelines. They wish they'd had more opportunity to dance with everyone.
Maria worries about the balance between making sure all your guests are having a great time and also doing whatever you two want because it's your wedding, after all. She suggests listening to your wedding vendors, who have the experience to help sort it out.
And they would have chosen a different caterer because they one they hired did not live up to their expectations.
It's really hard to say "L-G-B-T-Q" out loud. It's even harder to find LGBTQ+ wedding resources.
Maria gave Kirsten Mindy Weiss's The Wedding Book, which became her wedding planning bible. Kirsten had a 3-ring binder where she gathered magazine pictures and other inspiration within their raspberry and celery color palette.
On Wedding Vows
Kirsten and Maria kind of wish they'd decided to write their own vows instead of using the standard vows provided by their minister. Amanda points out that there are thousands of years of history behind the traditional vows, so they are meaningful. Cindy notes that writing your own vows can sometimes devolve into "reasons why I love you" and may fail to include any actual promises.
The Legal Marriage
Maria and Kirsten went to New York shortly after it was legalized there. Making it legal was very emotionally powerful. Recently, they attend a wedding of some friends – the first LGBTQ+ wedding they'd been to in Georgia since equality was passed nationwide. It was another highly emotional moment.
Maria and Kirsten's Wedding Advice
Something will go wrong. It will happen. Don't worry about it. As long as people are generally having a good time, just let it go. Guests won't remember the small things; they remember how it felt and how happy and in love you are.
Don't rush! If you're ready – amazing. But marriage is a huge commitment. Don't take it lightly. The closer you get to your thirties, the better chance you have of choosing someone you'll be compatible with for your whole life.
Do what you want and don't let anyone define that! If you are butch and you want to wear a dress or carry a bouquet – do that! Don't let anyone else define it for you.
Kirsten is a strong believer in itineraries. Make sure that all your vendors have the SAME schedule.
Get a wedding coordinator/manager. Have someone else be the person with the clipboard running everything and fielding the questions.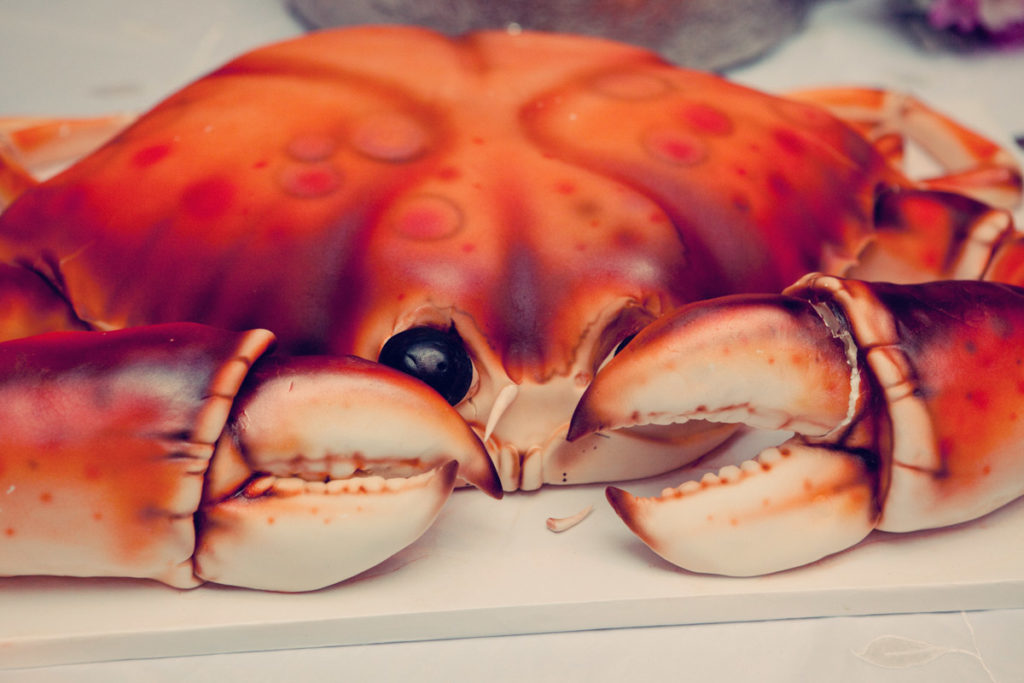 Kirsten and Maria Loved These Wedding Vendors and You Will Too:
Photographers: Our Labor of Love
Florist: Adaptation Flowers
Broom's Cake: Karen at Highland Bakery
DJ: Mike Zarin
Venue: Mary Gay House
After Party: W Midtown
Hair and Makeup: Max Sanchez, The White Salon
Kirsten and Maria launched Equally Wed in 2010 to offer the LGBTQ+ community what they wished they'd had when they planned their own wedding. They teamed up with their sets of talents for editorial/writing and web development to create an online portal with inspiration for LGBTQ+ weddings and engagements, as well as offering information on where it's safe to travel for your honeymoon, where you don't have to worry about getting arrested for holding hands on the street. They wanted to offer wedding vendors who are not just okay with your wedding, but who are enthusiastic supporters and can't wait to celebrate your love!
Kirsten is also the author of the first gender-neutral wedding planning book specifically geared towards LGBTQ+ couples, Equally Wed: The Ultimate Guide to Planning Your LGBTQ+ Wedding.
Equally Wed was also launched to propel marriage equality forward. They felt that if straight people saw that it was just true love happening and that there's not a single difference other than the homophobia and transphobia, then they would vote for our rights. Now, with federal marriage equality, the mission has expanded to elevating the wedding industry. They've recently launched Equally Wed Pro, where they're rolling out a certification program to teach members of the wedding industry how to be more equality-minded and inclusive and things to consider when they're wanting to work with LGBTQ+ couples.