We're back! In our first episode of season two, we're introducing y'all to one of the oldest and best LGBTQ+ wedding resources on the internet: EquallyWed.com. Founders Kirsten and Maria Palladino tell us how they got started, what they do, and why it matters. Plus, 5 ways to get gayer in 2019!
We're Here, We're Queer, We're More Awkward Than Ever.
We've forgotten how to record an intro. Bear with us. It's been a little while.
Oh yeah, and we're gayer than ever! Cindy's hair? Way more gay and full of rainbows! Let's talk about it. Here's the picture Amanda demanded: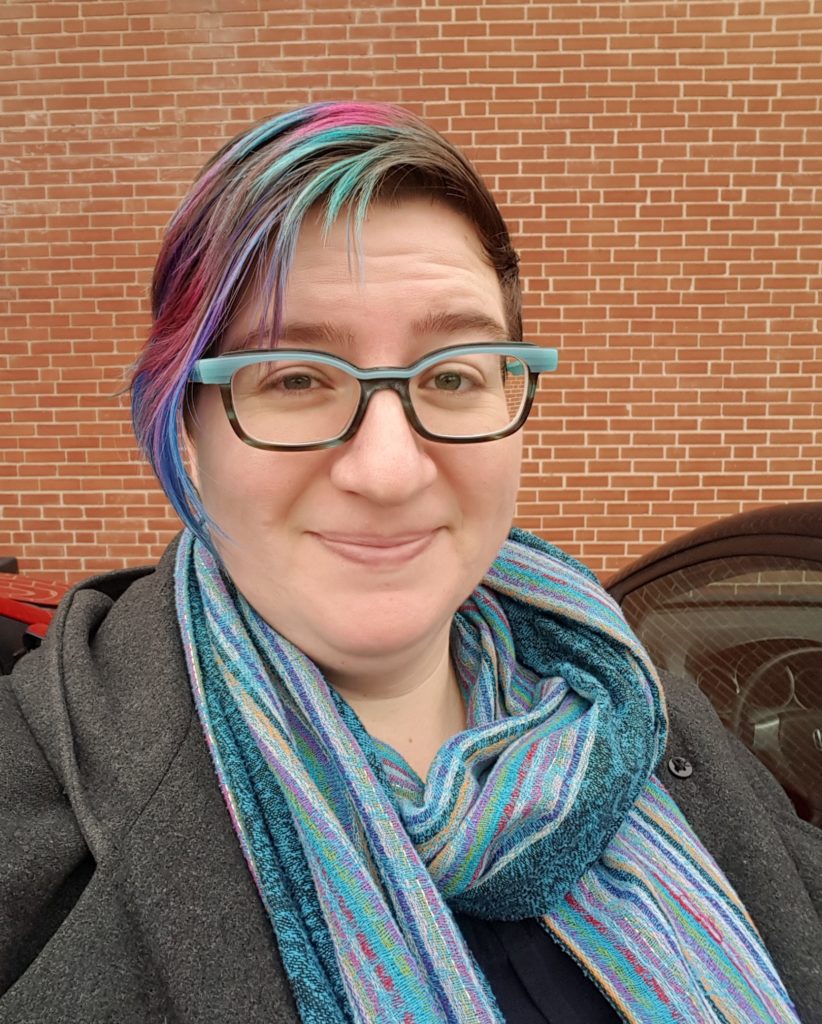 5 Ways to Get Gayer in 2019
This is not a top five list — it's just a list. Of five things we thought up right before we recorded. Do you have other suggestions? Please tell us what they are because we're not gay enough yet. Glitter didn't even make the cut.
Drink your beverages out of a Super Gay Coffee Mug
Tell all your friends about the Super Gay Wedding podcast and leave us a review on iTunes
Hire super gay vendors for your weddings and support LGBTQ-owned businesses in the rest of your life. Like wedding planner Cindy of Aisle Less Traveled or photographer Amanda Summerlin of Amanda Summerlin Photography. Plus, you can follow Amanda's new instagram @inkwhiskyandwax!
Call and write your elected representatives and tell them you care about LGBTQ+ rights issues.
GO TO BRUNCH!
BONUS #6: Have a Brunch Wedding! Hire Super Gay Vendors! Skip the favors and instead donate to LGBTQ+ organizations!!
Meet the Founders of Equally Wed, Kirsten and Maria Palladino
Equally Wed is your source for all things LGBTQ+ wedding on the internet since 2009. Inspiration, Real Weddings, Planning Tips, a Vendor Directory, Marriage Equality News, and Honeymoon Travel are all topics you'll find over on their website.
In 2009, Editorial Director Kirsten and Creative Director Maria were planning their wedding. And like most engaged couples, they were looking for resources to help them do just that. But they were dismayed to find virtually no representation of LGBTQ+ couples in wedding media.
So they decided to start the resource they weren't able to find. Equally Wed is where folks can come to get ideas and inspiration and check out pro-equality wedding vendors. Industry members can get training on working with LGBTQ+ couples through Equally Wed Pro, their new education and certification arm.
You can also check out Equally Wed's Ultimate Guide to Planning Your LGBTQ+ Wedding for all sorts of planning tips written in gender-neutral language and focused on LGBTQ+ couples.
Hey, even though we have a federal marriage equality ruling, we still don't have it nationwide.
Because rogue court clerks are still denying licenses to LGBTQ+ folks, and in the case of one county, to straight couples too, in protest. And we still have bakers and other vendors who won't serve LGBTQ+ couples.
What Makes an LGBTQ+ Wedding Different from a Straight Wedding?
The main difference is who is standing there to get married. Their love is no less or more significant, but the journey that they've taken to get there has often been mixed with homophobia and/or transphobia in their family, within the wedding planning process itself talking with different vendors, wondering whether to invite relatives who are unsupportive — there are always little parts of the process where LGBTQ+ couples have to consider their sexual orientation that straight people just don't have to deal with.
A wedding is a wedding is a wedding, but the we have significant challenges that our heterosexual counterparts simply don't have to overcome.
It's presumptious to assume that anyone is going to take anyone's last name in this day and age.
Straight or queer. So stop asking inane questions like, "But who will take whose last name?"
"We never even imagined what our wedding would be like, because we didn't think we'd ever have one."
When they have the honor to publish stories of couples who have been together for many years, and who are much older than traditional wedding magazines would ever publish – you know that on that day, when their friends and family are gathered around, it's a historical event!
When they've been together for 20, 30, 40+ years and waiting for legal marriage to be available to them, it's emotional!
LGBTQ+ weddings are not just a celebration of the two people getting married; they're a celebration of our entire community and how far we've come.
How Equally Wed vets LGBTQ-friendly wedding vendors.
There are a few different tiers of wedding vendors, they say:
"I don't wanna work with gay people, I don't even know what trans is, don't call me." — in other words, ASSHOLES. Obviously, those jerks aren't getting onto EquallyWed.com.
"All money is green, I don't care, I don't judge." — Kirsten & Maria aren't looking for these people either.
Vendors who are enthusiastic about celebrating LGBTQ+ couples and their commitment who support marriage/wedding equality. These are the vendors that Equally Wed is inviting into their vendor directory.
Equally Wed vendors also sign a pledge promising to treat their LGBTQ+ readers well. Plus, they have a system in place for couples to suggest vendors who are enthusiastic supporters and report those who don't treat queer couples respectfully.
They also work with wedding vendors to help them become more inclusive and welcoming with their language, images, and interactions.
How Queerness is like Left-Handedness
A metaphor for creating equal access.
The world doesn't need to be designed exclusively for left-handers or queer folks (or any other marginalized group) but… we do need to retrain our brains to notice the needs of every group especially with regard to how they differ from who and what the world is usually centered around.
Can we please stop having "bridal" suites?
Wedding Suite.
Dressing Room.
Prep Spaces.
Whatever the fuck you want to call them, please just make there be two of them that are equally sized and equipped and preferably aren't full of antlers unless the entire venue has a hunting lodge vibe going.
Advice for Wedding Pros from Equally Wed
Change your language to be gender neutral everywhere – on your website, in your sales materials, in your contracts, in your emails.
Make sure there is visual representation of LGBTQ+ couples in your photos/portfolio.
Interact with LGBTQ+ content on social media and network with vendors who are already working with queer couples.
Join Equally Wed Pro for education and certification programs!
How LGBTQ+ Couples can Find Wedding Vendors
Obviously, start with the Equally Wed Vendor Directory!
Start with who you are. It sucks, but you've just got to come out all the time, to every potential vendor.
If you already have one vendor you love, ask them for recommendations
Don't limit your search to local vendors – a lot of wedding vendors do travel! (Especially photographers and wedding planners.)
Go Visit Equally Wed:
Website: EquallyWed.com
Facebook: @EquallyWed
Instagram: @EquallyWed
For Vendors: EquallyWedPro.com