We talk to Anakin and Sharon, who met in college, had a chill and casual pizza party reception, and got introduced as newlyweds by none other than NPR's Carl Kasell. Some other topics covered in this episode: Chicago is cold. Wearing sneakers for your wedding is awesome. Weddings are theatrical productions.
Our Pre-Show Banter is A+ Today.
News flash: South Park is (still) really offensive, and maybe we don't want to spend our free time consuming shit made by straight white dudes. Men have had their time, and we're over it. (Women aren't perfect, either, sadly.)
Cindy's Rule for Reading Books
Generally-Accepted Book-Reading Principles*: A book is "finished: if…
You have read all the words on all of the pages.
Cindy's-Acceptable Book-Reading Principles*: A book is "finished" if…
You have picked it up at least three times, and

You have read as much as you wanted to each time (meaning, you don't have to put it down because of other obligations in your life), and

You still don't want to keep reading and/or you have started to dread cracking it open?
You're fucking done. Put that shit down and read something worthy of your valuable time. Mission accomplished. Mark it read on your Goodreads challenge. Take it back to the library. Move on with your life. The amount of books in the world is virtually unlimited, you will never run out of good ones to read. Banish bad books from your life. (Pro tip: The Secret History, in Cindy's opinion, does not even deserve that first chance.)
*Someone gets the accounting joke here, right?
Meet Anakin and Sharon
They got married in a live music venue attached to a fantastic pizza joint, and had the best conga line Cindy has ever witnessed. They folded a crap ton of paper cranes for their wedding decor. Wait Wait… Don't Tell Me! fans will be excited to hear their reception announcement by none other than Carl Kassell!
How They Met and Why They Decided To Get Married
Sharon and Anakin lived in the same college dorm in Chicago, and "then winter happened. And no one wants to date anyone outside of the dorm because it's cold." Sharon was a stage manager and needed an assistant, asked Anakin, who agreed, and they spent an entire rehearsal process together. During which they did not date — at least not until the closing night party. They've been together since 2008 and got married in 2012.
Sharon decided they should get married. Anakin decided to have a quarter-life crisis instead, moved for an internship, missed her, and returned with a ring. He proposed; Sharon immediately proposed in return. By this time, they'd already been discussing marriage and had put down a deposit on a venue.
Spoiler: Winter in Chicago is Fucking Cold
And that seems to play a part in every phase of their relationship. Inexplicably, a picnic was planned during a February visit. Outside. In Chicago. [And yeah, the ended up picnicking indoors because. Cold.]
The Hardest Part of Wedding Planning
Every choice is really emotional and the world says you have to care about them. You can't just do things, you have to actually make decisions.
As the first of their friend bunch to get married, they didn't have previous wedding experience to inform their decisions. This was hard, but on the plus side, they got to set the bar for what is worth caring about and what is not. For example,
They had a cocktail-style reception with fewer chairs than people

They did all of the toasts at the rehearsal dinner so that no one ever got a microphone during the reception (with a bunch of theatre undergrads in attendance, an open mic could be deadly)

Their wedding was pretty casual
…And being the trendsetters among their community, many weddings they've attended since followed suit.
The Easiest Part of Wedding Planning
Planning the ceremony was easy, since they are Catholic – the mass was straightforward and you don't get to make many choices within the constraints.
For the reception, they wanted something within walking distance so no one had to navigate public transit, cabs, or anything else in between. And… there were basically two options: a park district space that would require a tent, or a performance venue in the back of a pizza parlor/wine bar.
They went for the pizza and wine, obviously.
Sidebar: Discussion of Chicago Pizza
How Being LGBTQ+ Affected Their Wedding Planning Experience
Anakin is trans, which presented the question of: Would they be able to get married in their Catholic church? They had a couple backup plans, just in case the church didn't work out — but thankfully, the priest at their church agreed to do it.
Contending with all of the gendered non-sense was frustrating. Anakin's dad gave them them Emily Post book, which treated queer weddings as a (literal) footnote.
As a bit of a metaphor, they had a white wedding cake that was rainbow on the inside; though they appear to be a straight couple, they are not.
Thinking About the Wedding as a Theatrical Production Made it Simple.
As theatre folks, they are used to planning and producing events; treating the wedding as a site-specific devised production made it familiar and manageable.
So they had a Paper Tech and they made Run Sheets. We tell you WTF that means.
Theatre people are great at weddings, by the way.
Carl Kasell Introduced them into their Reception!
Theater people know people, and they know people who know people. Their DJ had interned with Wait Wait… Don't Tell Me! and knew Carl Kasell – so they asked if he could get it done. And he did. Give it a listen:
What They Wore. What Their Wedding Party Wore.
Clothing. [It was not a nude wedding.] They got matching custom converse sneakers. This caused a bit of upset with her mom, who thought she ought to wear dress shoes.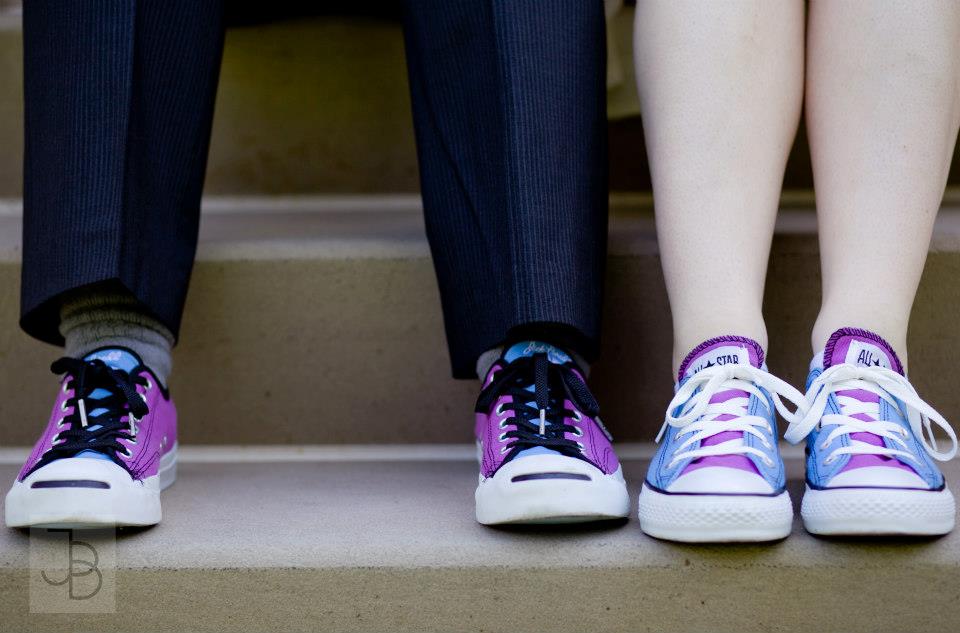 Sharon won that argument. Photo by Justin Barbin.
One Way to Pick Your Wedding Colors is Post-It Notes
If you're going to be folding roughly 1000 of them into paper cranes, and you start with that, congratulations! You now have a color palette for your wedding to which you can match your custom converse sneakers and your wedding party attire.
No Wedding Choice You Make is Special or Unique
And that's ok. Your wedding happens in a specific time and place, and your decisions are influenced by what's going on around you – both in weddings and the world at large.
There's an extent to which you are limited by what's available; and what is available is largely determined by what's trending.
So… don't be worried about whether or not you're doing the same things that other people are doing. Ultimately, none of the choices matter as long as you get married.
Breakfast Weddings Rule (And So Do Naps)
Weddings are exhausting. Morning weddings are shorter and allow for naps afterwards.
Random Questions
Star Trek or Star Wars? "Come on. You don't get to ask a person named Anakin that question."
Ketchup or Mustard? "Mustard. When it's not just …yellow mustard. But certainly never ketchup on a hot dog."
Dogs or Cats? [They hold up a cat to the camera screen.]
French Fries or Tater Tots? "Tots."
Left or Right? "…Left?"
Red or Blue? "Blue."
Buffy the Vampire Slayer or Abe Lincoln Vampire Hunter? "Buffy."
Cake or Pie? "Cake… or why not both?"
LGBTQ+ Wedding Planning Advice from Anakin and Sharon:
Pick the right partner. It's the most important decision. You don't have to do stuff you don't want to do. The only mandatory part of the getting married is marrying the right person.

The marriage planning part is important. It is as important as picking colors and centerpieces and whatever else.

If your dad gives you the Emily Post wedding book, it's ok to read it once, put it away and never look at it again. You cannot be in two places at once. Very literally. And that's why you may want to hire a wedding coordinator/planner.

Write all of your plans down. Communicate them clearly to the folks involved. Stick to the plan.

Absolutely all of your choices will be dated within six months. Don't worry about it.
Anakin and Sharon Loved Working with These Wedding Pros, and You Will Too:
Photographer: Justin Barbin